Our next spotlight is on Pj Halliwill. Pj creates monsters that people line up to get their hands on at the DayGlo Show - who wouldn't want a Pj creation in their house? Despite being monsters, her creations are fun and some are even downright adorable. We adore Pj and her monsters, so it was incredibly interesting learning more about her. Pj can do the talking from here - read more below!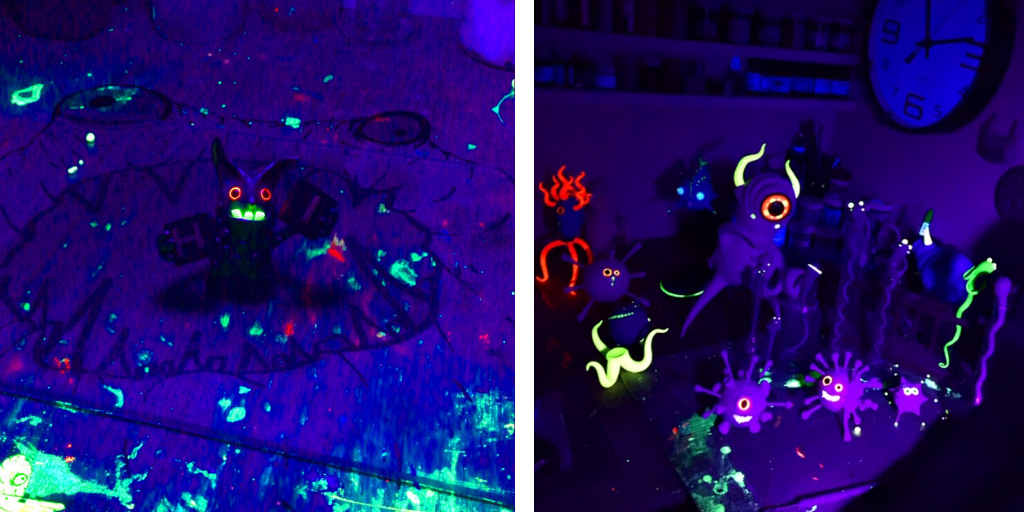 I'm a monster maker living in the Cleveland Ohio area. My mind is full of weird things that my hands are compelled to create.
Most of all I enjoy making all sorts of one of a kind whimsical, weird, odd or creepy monsters from just about anything I can get my hands on. Stoneware and Earthenware are the clays that I enjoy sculpting with the most although I really do enjoy using all types of various clays. I will often combine several mediums, acrylics, DayGlo paints, inks, and even found items to create a single sculpture.
My head is full of Monsters, Misfits and Oddlings...coaxing them out of my imagination and into reality is my favorite thing to do.
A little about me..
I love making monsters! But you probably already guessed that about me. Well let's see.. Before I was making monsters I was a kid with a big imagination that loved doodling , caring for animals, watching bugs and getting dirty ... actually none of that has really changed ! And I'm still just a kid at heart.
Nowadays , when I'm not making monsters, I spend my time doing all sorts of various things like reading a good book, enjoying a hike, checking out an estate sale or two (because I love finding unique interesting or weird items) we are usually busy with a remodeling project in our house or working on projects in our machine shop. Yes we have a machine shop and I love being out there with my husband Jim.
We've been married over 30 yrs... he's is a super awesome guy. He's a moldmaker and machinist.... actually my first two monsters I ever made were inspired by him and the guys he worked with in that trade. I do seem to find inspiration everywhere I look. Whether it's a bug or a found item or a pattern in a piece of wood or slate that looks kinda like a creature... or maybe it's the patina on a worn metal cabinet that has layers of paint and rust wearing through from years of use its these sort of things that my eyes seem to notice, I find them intriguing and that inspires me to create.
What inspired me to create monsters?
Well they are up in my imagination and they just want out... so I make them!
Life can be serious and difficult but Monsters are fun, I'm actually rather serious and pensive and it's too easy for me to get bogged down in the heaviness of things. When I'm creating these sculptures they take my mind off of everything it becomes just me and the clay. When I see them form in front of my eyes and I get to "meet" one once it's become it's little self , that makes me happy and I smile. I want others to smile too. Maybe these monsters can inspire a moment of carefree bewilderment or playfully engage with the imagination, these are things we did more as children and as adults it feels good to connect with these things once again... I hope that is what my monsters do... spread a little spark of wonder and fun.
What is the most favorite piece I've ever made?
This is gonna sound cliché but honestly it's a rather strange thing... it seems that the one that is in my hands in the process of being created is the favorite one I've ever made! LOL ! Maybe that's because I truly love the process or maybe it's because I experience a very direct and interactive connection to the monster while I am in the process of creating it. Aside from that... the one that I probably have the greatest sentimental attachment and appreciation for is the first one that I ever made... because he was the one that started it all. That monster set all the rest of them free!
What do I like most about working with DayGlo paints?
Where do I start?!!!! My goodness! It's amazing stuff and It's from right here in Cleveland!! I grew up with DayGlo on posters and cards so there is a special place in my heart for it. But most of all.. I think DayGlo paints are just so beyond fantastic!! They are wonderful amazing playful vibrant and just so FUN!! I find that DayGlo paints take my monsters to another level! They are the perfect compliment to my creations. The initial visual impact alone adds extra pizazz and personality to my monsters but what I love most of all is the surprise element of seeing the paints go absolutely wild under the black light! I like to think that my creatures have their everyday look in the natural daylight while also having a secret "party" side under the black light! Sometimes I like to hide the DayGlo paints on them in a very subtle way so that they are not very noticeable. Well not until the UV light hits them and then..."bam!" like magic all these little details light right up with an incredible intensity.
My favorite part... is the reaction I see when people experience this right before their own eyes. That moment of glee, astonishment and childlike awe is so fantastic. I've seen people actually jump back startled by the impact and the surprise of such unexpected brightness then giggle with delight. It's wonderful!
I create these monsters in hopes that they will spread some delight ...maybe even reach the child that's been hidden away down deep inside .. the one that is hungry for a more carefree self...to feel some wonder and bewilderment once again.. well DayGlo really has that effect. It unabashedly delivers a great big wallop of surprise and fascination ! DayGlo is the perfect accomplice in my quest to chase away stress, gloom and the seriousness that we tend to carry with us especially as adults. And besides I never tire from seeing my studio in the dark with just the black light on.. it's like a hilarious carnival of fun everywhere.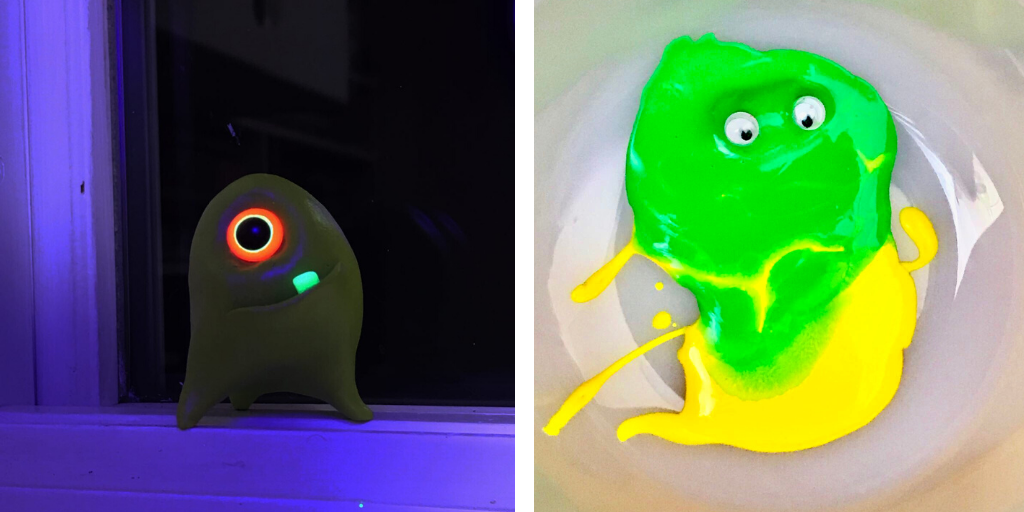 Words and wisdom to aspiring artists
Create some art every day.
The more you feed your creativity the more it will feed you.
Comparison injures creativity but Aspiration will nurture it.
Share with other artists, learn, collaborate, give yourself permission to play, to imagine and to explore, but also spend time honing your skills and doing what you love.
Don't ever create for the sake of pleasing others... create what is inside you and what pleases your own soul..
Anything else I'd like to add?
So much! But How about I just share something random and fun?
The clock on the wall of my studio ticks so loudly that whenever I record a video in there that tic tock tic tock gets picked up every time... and this makes me giggle
If I find a bug or spider in our house I gently place it outside on a plant
I see faces in random objects
Googley eyes make everything a bit better