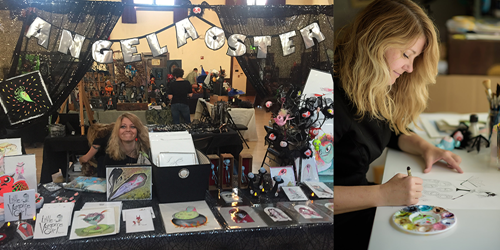 What led you to becoming an artist?
Angela Oster: Like most kids, I liked drawing. I enjoyed art class more than anything else in school. I took a commercial art vocational program in High School. I went to art school. There was never a question of wanting to become an artist. The hard part was giving myself permission to make the kind of art that I am making now. When I finally did that, everything clicked.
What art mediums do you enjoy using the most?
AO: Drawing with ink and painting with gouache, watercolors and DayGlo! I have been turning my drawings into little sculptures, and that's been super fun. I like that these little weirdos can cross pollinate and take different forms.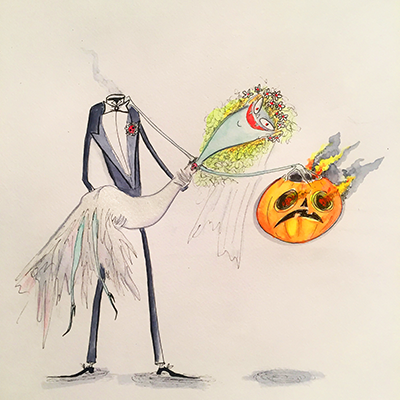 What drew you to using DayGlo paints?
AO: I applied to the Waterloo Arts DayGlo Show. I heard that if you got in the show, they gave you free paint, so I thought I'd give it a try. Once I started using DayGlo paint…it was like BAM! I was hooked. I use them as my finishing touches- kind of like glazes, just here and there and it makes the whole picture POP!
Where do you find you get your best inspiration from?
AO: I look at art! I frequent museums and galleries. My favorite thing to do when traveling to another city is check out what their art museum has to offer- it never quite lives up to my beloved Cleveland Museum of Art, but we are very spoiled here, I know. I like to explore independent galleries when I can find them, too. I live on Instagram (@osterjoy). I have found a very supportive community there, and I also follow so many artists, fashion designers and collectors of oddities that I'm inspired constantly. It's hard to keep up with the ideas that are slamming me in the eyeballs every day.
What's your process look like before creating a piece?
AO: It is usually a tiny scribble on a scrap of paper most likely inspired by an image I saw online. Sometimes it's a gesture or a pose or an outrageous costume from a 1930s showgirl that sparks my idea. Sometimes it's a vintage brooch or a strange cat photo or a tiny bat drawn as a detail element in a bigger picture, and I'm like, "I have to draw that!" Once I have the tiny pencil sketch, I'll blow it up in photoshop and print it out to the size I need, then I trace it! So easy! But I find that nothing has the life and energy of that original pencil scribble- I do my best not to kill that spark by the time I finish the picture.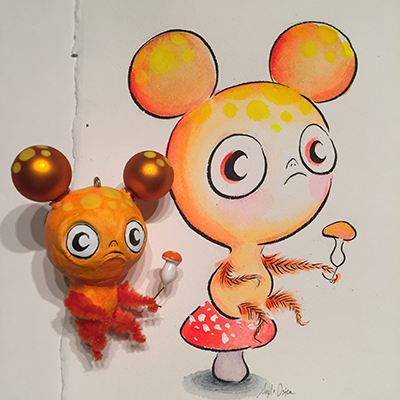 Have you always been interested in drawing cartoons and illustrations?
AO: Yes! I dreamed of being an animator for Walt Disney- I never wanted to be a Disney princess, but I really wanted to draw Bambi. I made my own children books, paper dolls, D&D characters and greeting cards as a kid, so now I'm living my dream!
Why ghoulish monsters? And why give them a neon makeover?
AO: Monsters and DayGlo just go hand in hand, don't you agree? Maybe it was growing up in the 1970s and Spencer Gifts with their Velvet Black Light posters that instilled in me the idea of DayGlo as the ultimate in subversive supercool imagery. My monsters all began with my character The Little Vampire Girl. She was the beginning of me finding my way to my own style. It was like the ideas and influences of all of the artists that I like to look at got stirred up in a potion in my brain. And these ghouls and spooks just keep popping out.
 Do you have a favorite piece you've created?
AO: There are a couple of drawing that I made for a show with local artist Krista Tomorowitz, "Bats in My Bouffant."- one is a drawing of RuPaul as a vampire and one is of Brigitte Bardot as a vampire. For some reason I like them a lot- They are currently at Stranger Factory Gallery in Albuquerque right now. Maybe I should ask for those back!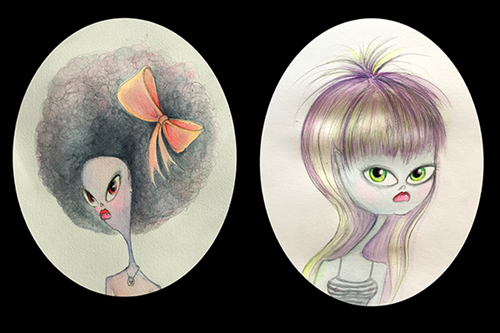 How did the idea for your #DayGloBat come alive?
AO: I am absolutely gaga about vintage Halloween decorations and wished I could make my own. I also like to send little gifts or cards to people that have patronized my booth at art fairs or supported me in some way throughout the year. So I merged these two ideas together- a Halloween decoration that could be folded into a card that I could send as a little love letter to friends and patrons.
You're very involved in the Cleveland art scene. What's it like being able to connect with local artists?
AO: I choose to live here, so I want the art scene to thrive. I try to be encouraging and supportive to others, because there is no blueprint to finding your way as an artist. There are many resources available and avenues to take, but when it comes down to it, you have to find your own way.
Which moment would you say you're most proud of?
AO: I am most proud of the collaborations I made with the 4th graders of Kensington School in Rocky River. I did one in 2015 and another this year. The fact that both pictures live in the library at the school are what I'm most proud of.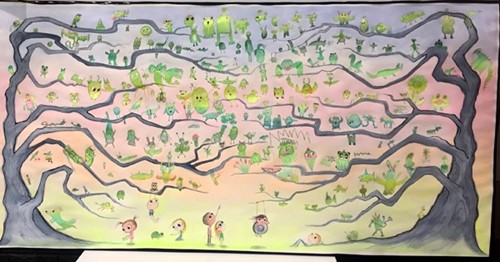 Aside from art, what's your favorite thing to do or hobby?
AO: I love books- art books, children's books, comic books, audio books, libraries, book stores- you get the idea. I adore junk shops and flea markets- there's so much inspiration to be had. I collect vintage decorations and odd jewelry. I also love swimming and boating and exploring bodies of water.
What's your best advice for someone trying to be more creative?
AO: It's been said that creativity is a muscle- you have to use it every day or it atrophies. You have to build that up on your own. It takes a lot of work, but once you have the momentum, it becomes a joyous exercise.
If you couldn't live without a DayGlo color, which would it be?
AO: It used to be Rocket Red, but now Aurora Pink has stolen my heart. Saturn Yellow is always magic too. I love them so!
What message do you hope to spread with your art?
AO: I hope it's a message of humor with a tiny hint of darkness. A devilish grin.
---
If you use DayGlo fluorescent paints and would like to be our next artist spotlight, please tag us in your colorful creations using #DayGlo on Instagram and Facebook!