We loved Audrey's piece for the DayGlo show so much that we want to display it in our office - she painted our logo onto playing cards. What's surprising about her is that painting isn't her primary form of art, she is a very talented photographer. She's constantly creating and testing her boundaries, which is a trait to be admired. You can learn more about Audrey after reading the below by going to: www.audreywarrenfeltz.com.
Tell us a little about yourself:
My name is Audrey Warrenfeltz and I call Cleveland, Ohio home. I didn't always, my father was in the Air Force so we traveled around a bit. I come from a pretty creative family, which was a huge influence on me growing up. They inspired me to learn how to draw and use my imagination as a small child, and I was always learning and trying new things because of them. I am the only person in my family to go to college, and I have a BA in Visual Communications from Peace College, a BA in Anthropology from University of Maryland, College Park, and completed a Master's program in Visual Anthropology at American University. It's a bit of art and a bit of social science that mashes up for a person who is always observing and noticing and documenting the world around her while also feeling a need to create.
Primarily I am a photographer. I have had my own successful portrait business, and have most recently worked as a corporate photography specialist. I also have that anthropological drive to document contemporary culture and spaces, so I travel around and explore the places and things that I see, which has been making for an ever growing archive of places around Cleveland. I love giving glimpses of places and people that maybe not everyone gets a chance to see, or that they may not have noticed on their daily commutes.
As an artist I enjoy exploring all media and pushing my creativity to see where a project might go. When I'm not working digitally I can be found sketching or playing with a bit of clay or whatever paint I might have on hand. My strength, I think, is in my willingness to try new things.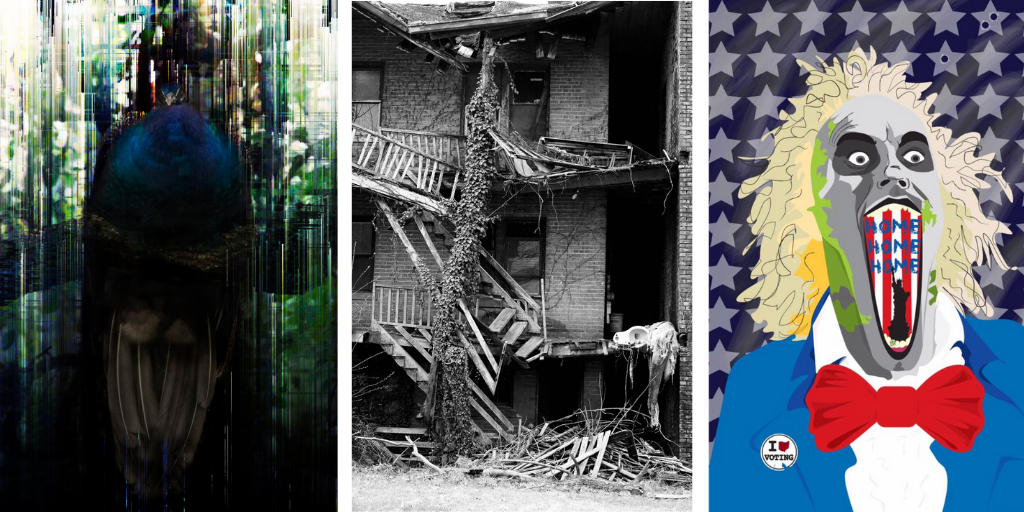 What did you enjoy about working with DayGlo paint?
My piece for the DayGlo show was inspired by the creation story and I had a lot of fun playing with the paint and seeing how far I could push it. Painting isn't my strong suit so I was pushing myself to see what I could accomplish and where it would take me. For the background I created a lot of texture by building the paint up in layers and then digging back through it, but what I was most excited about was creating a 3D effect that would be amplified under black lights. Painting the DayGlo logo on the cards and building them out so they sprang out of the painting and into the viewer's face was a problem solving adventure that had me painting and building the piece inside my coat closet so that I could see it under the conditions it would be showing. It was a little kooky and a lot of fun.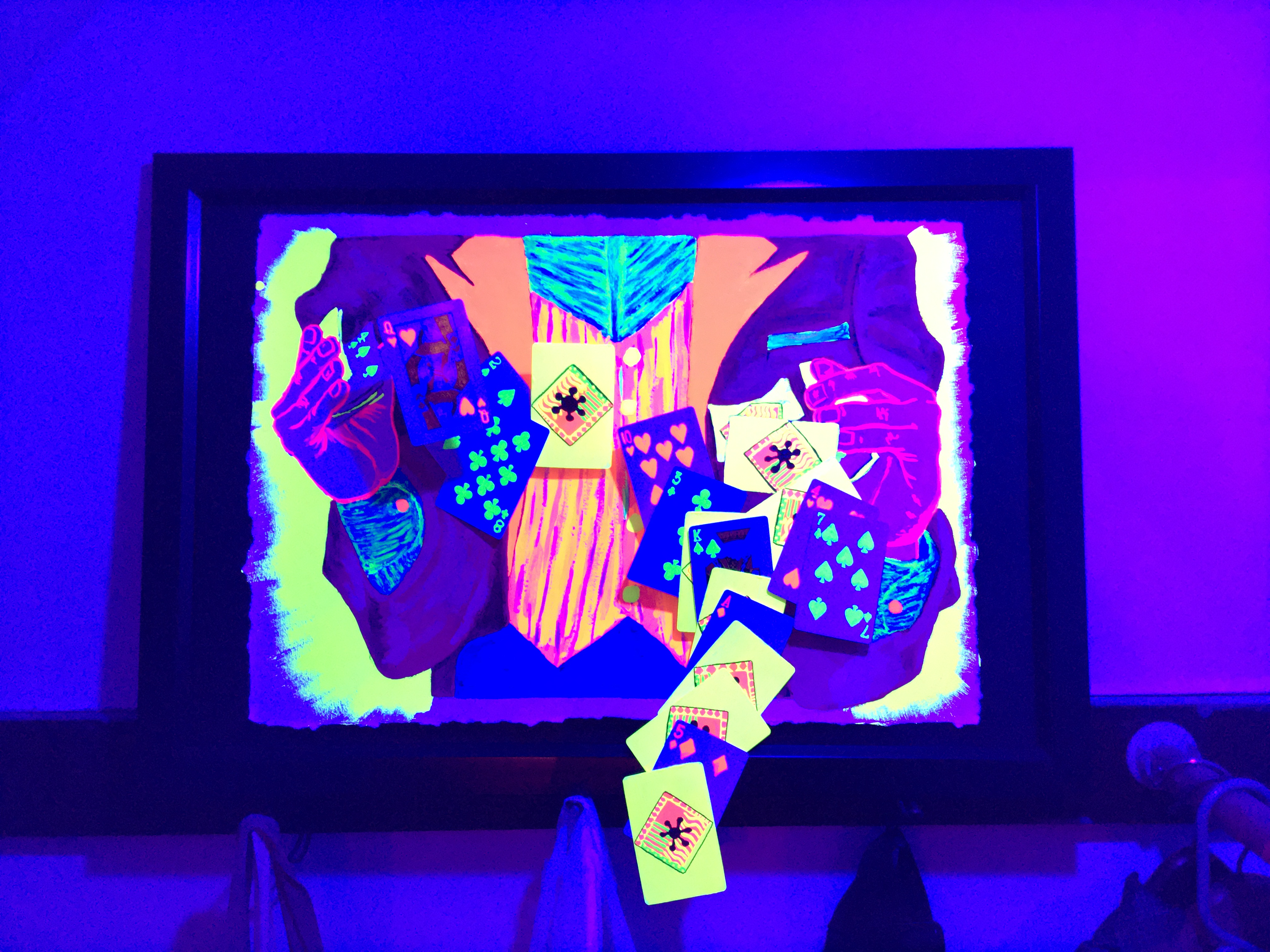 After I completed this piece I didn't stop using the Dayglo paints. I worked it into some sketches I did during the shutdown and even tried working it on a flower pot I sculpted. I learned from the sculpture experiment that the paint doesn't hold up as well as acrylic when an additional wet medium is applied on top. But you can't beat that amazing color or that extraordinarily fun luminescence.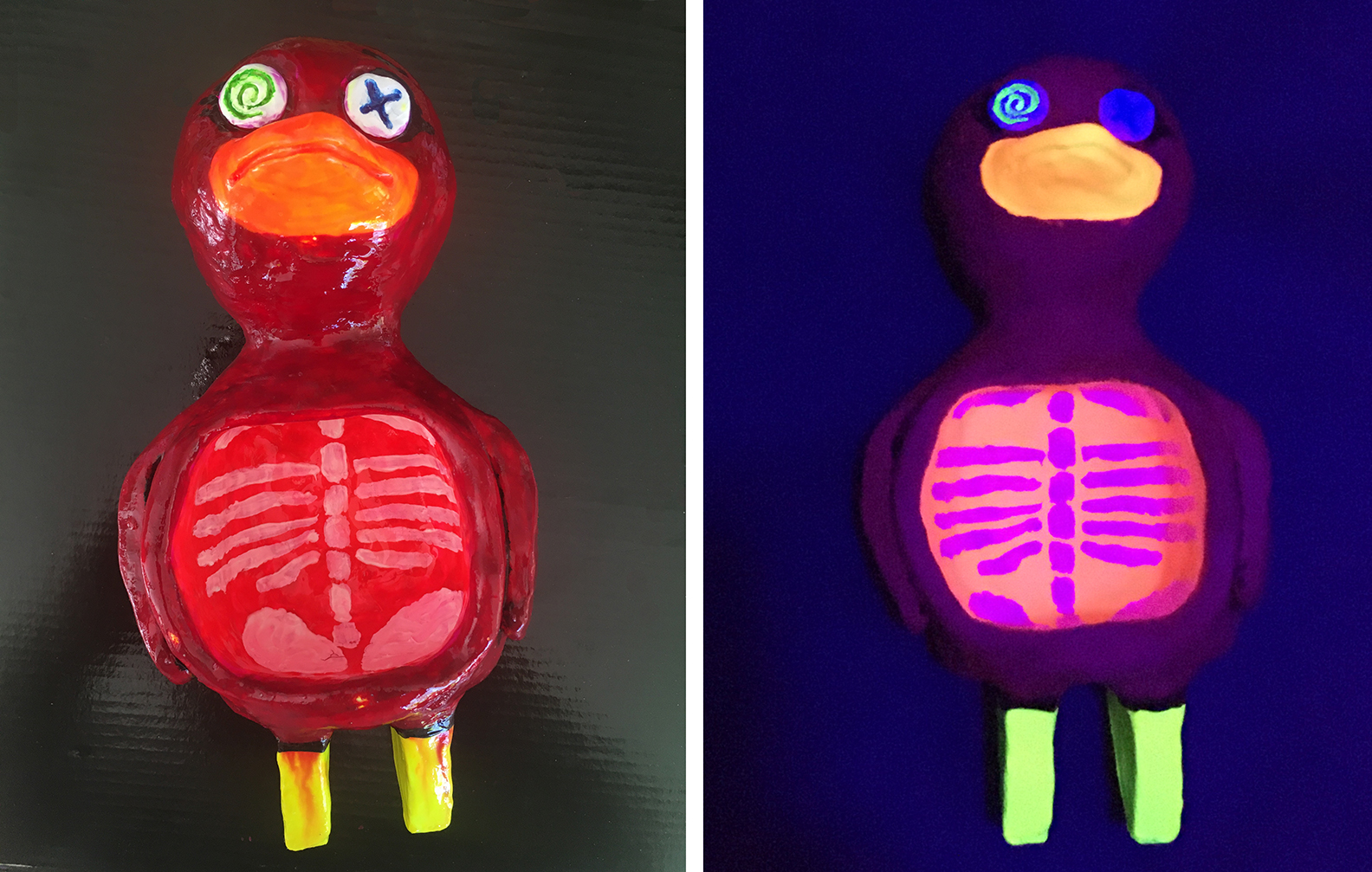 Any words of wisdom for aspiring artists out there?
Experimenting is the best way to keep inspiration going when you need it most. If I had any advice for other artists it would be to experiment, venture outside of your strongest medium and just play around. You never know where it will take you, and you'll be surprised when your experience with something might come in handy for a project you never knew you'd take on.