Susie Underwood's art is an experience unlike any other. It immerses the viewer in an environment, taking them to a place they have never been before and may never be again. Her piece for this year's DayGlo show was floral and fun, it captured the essence of what the show is about. Keep scrolling to learn about Susie and you can find more of her work at https://www.susieunderwood.com/.
Tell us a little about yourself:
I usually say that I am an installation and performance artist. I have done a little bit of a lot of different things. I am drawn to this type of art because I like to create experiences for people that are interactive and participatory, rather than just an object. Though, I do love objects! I love kitsch and vintage collectibles and I used to use a lot of toys in my art to make music boxes or curio cabinets, etc. I also have a lot of experience working with people, the community. I worked at the Columbus Museum of Art for 9 years before I moved to Cleveland, where I have worked everywhere, it seems! I like to facilitate creative activities for people who need a little nudge to get creative.
What inspired you initially to create art?
I have always been creative in some way. As a child, I filled the days with forts and performances. I'd read books and make myself fairy wings or something like that, inspired by the story. I was kind of a spaz as a child and now I'm just a chilled out version of my younger self. Now I create art because it feels like there is a void when I'm not working on a project. I need something to activate that part of my brain.
What is your favorite piece you've ever made?
I worked really hard on WEB for the Wonder Room at the Columbus Museum of Art. It was fun to explore bugs and textiles and create characters. To be honest, I don't really love anything I make. Once I'm done, it's the past. The process is way more important.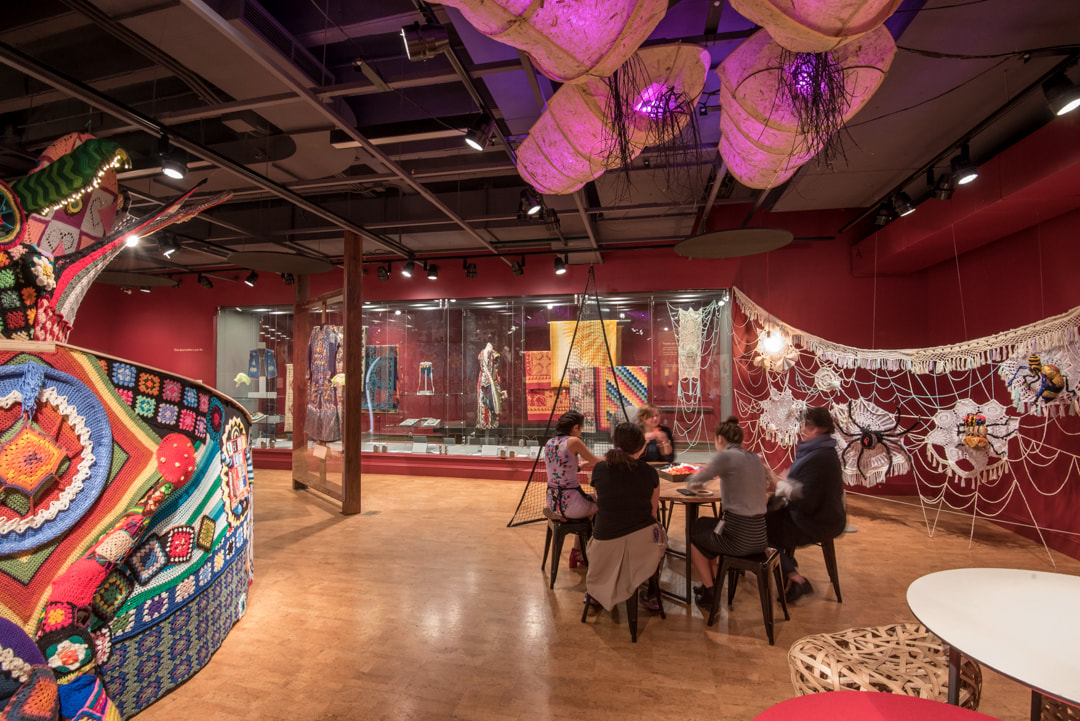 What do you like most about working with DayGlo paint?
I like that it's something I would maybe have never tried, if I hadn't been invited to participate. I don't paint much, so it's a fun project and I think that the community of all ages really enjoys the show.

Any words of wisdom for any aspiring artists out there?
I would tell anyone who wants to make art to start today. It's a lot of work and it takes a ton of time to get to a point where you feel you even have your own style. Find a community of artists who support each other. Don't compare yourself to anyone but a previous version of yourself.
Anything else you'd like to add?
I'm thankful to the art community of Cleveland for accepting me and I hope that I can help other artists to progress and get paid!