The Waterloo Arts DayGlo Show was supposed to begin in person on April 3, but had to be postponed due to Covid-19. After being sad about not being able to see the artist's glowing creations in person, we regrouped and Waterloo Arts was able to put together a preview gallery online - you can find it here. We thought it would be fun to expand upon that and highlight some of the artists from the show to find out more about what drives them to create.
Below is our first spotlight, Cleveland native, Davon Brantley. The DayGlo show was his first time using fluorescent paint and he absolutely rocked it. Davon talks below about the roots of his art, his love of giraffes (best animal ever), his favorite creation, as well as ending with some great advice for aspiring artists.
Tell us a little about yourself – who you are, what you do – etc!
My name is Davon Brantley and I'm from Cleveland Ohio! I'm a Cleveland Heights High School Alumn, I graduated with a Bachelors in Fine Arts from the Cleveland Institute of Art and I love Giraffes. I create work that talk about the psychological effects of childhood trauma and how it can cause a separation in a person's psyche that helps them adapt to specific situations. This "help" could be perceived as "good" or "toxic" ways of making the situation more endurable for the subject. So I create certain personas that tell narratives of a more vulnerable state of myself where I'm exploring emotions, relationships with others and exploring masculinity. My work is all from my perspective of being a black male growing up in uncomfortable circumstances.
What inspired you initially to create art?
What inspired me to initially create art, was just the fact that I loved drawing and creating! Whether it was painting, drawing, video or even animation. I was a very curious kid and liked to learn about all different types of creation!
What is your favorite piece you've ever made?
My favorite piece I've created has to be "Dancing with Death" I really pushed my brain a little in order to make an interesting portrait that was dead center on the paper. I didn't have photoshop at the time because it crashed so I literally had to draw all those arms from just looking at different reference photos I took. It's my favorite because I felt like I completely captured my thought of how death would look and shows the direction I want my art to continue. I want there to be more elements of dance!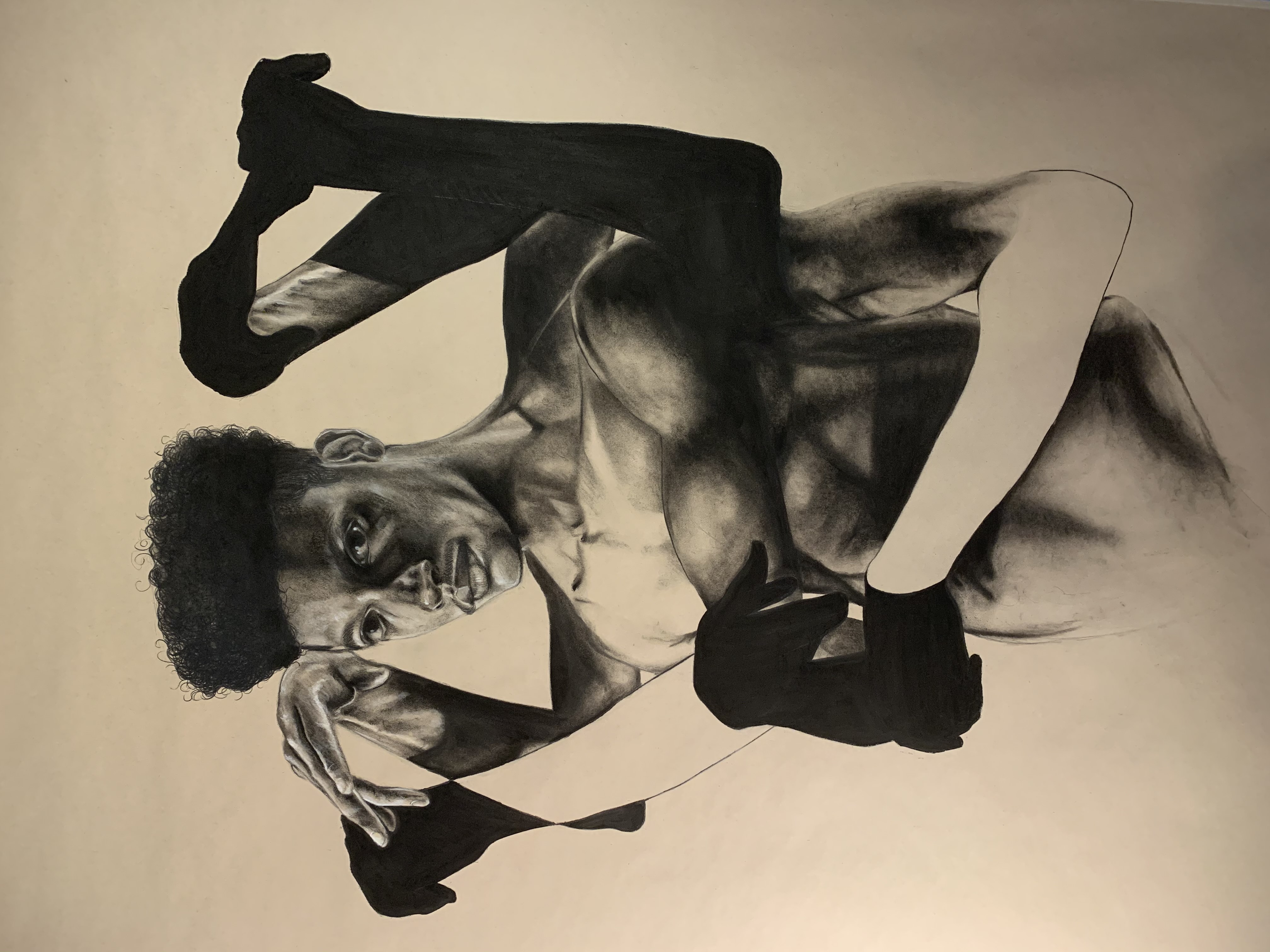 What did you like about creating this piece for the DayGlo show?
What I liked about creating the piece I did for DayGlo Show was the fact that I've NEVER used fluorescent paint before and I've definitely never created something with the intention of it having a 3-D effect while wearing 3D Glasses. It also gave the opportunity to work on a character of mine and I felt that he worked best for that type of glowing experience! It was a great experiment and learning process for me.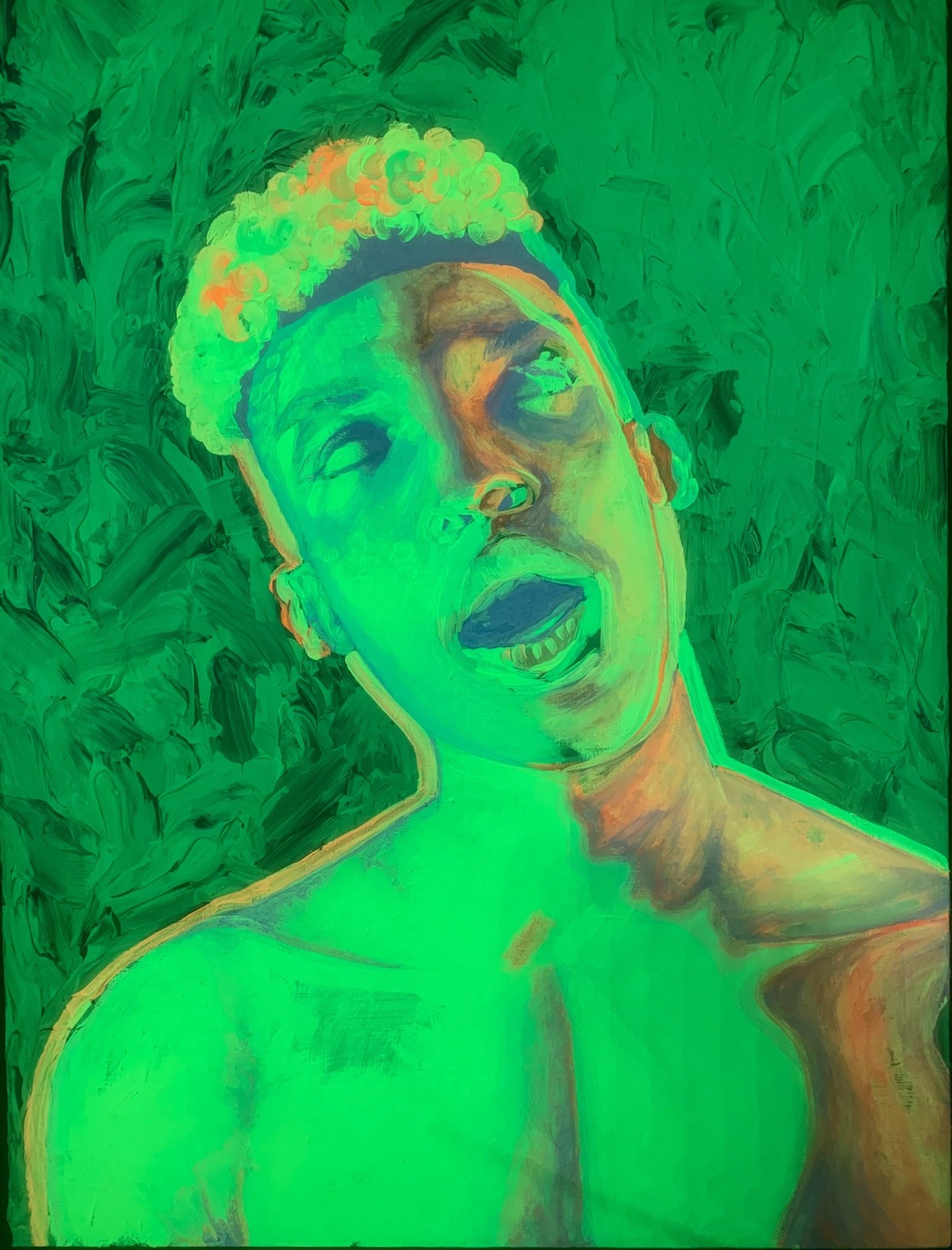 Any words of wisdom for any aspiring artists out there?
My words of wisdom would be "remember that you're never going to always create great pieces all the time, don't get bent up about it. Just keep creating until you hit those grand gems you want! Even the bad pieces can inform something great!"
Anything else you'd like to add:
Something I'd like to add "Giraffes sometimes fight using their necks. It's really hilarious but also sad because some break their necks"